A recording of highlights of La Bohème featuring members of the cast of the Broadway show directed by Baz Luhrmann can be ordered from amazon.com.
Some recommended recordings
One of the most popular recordings of La Bohème (especially popular in Newton, Massachusetts, according to amazon.com) stars Mirella Freni, Luciano Pavarotti, Elizabeth Harwood, and Rolando Panerai, with the Berlin Philharmonic Orchestra conducted by Herbert von Karajan.
Also available from amazon.co.uk.
An "historical" recording
Naxos has issued a recording of a February 1938 La Bohème featuring Licia Albanese, Beniamino Gigli, Tatiana Menotti, and Afro Poli, with the La Scala Opera Orchestra and Chorus conducted by Umberto Berrettoni. Available from amazon.com
One of my all-time favorite opera videos is the Australian Opera's 1993 video of Puccini's La Bohème. The action is updated to the 1950's, with a good-looking cast that sings quite pleasantly, sometimes in leather jackets. The production and stage direction are quite interesting. The stage director is Baz Luhrmann, well known as the director of the recent movie Moulin Rouge. The video director is Geoffrey Nottage. The cast including David Hobson as Rodolfo, Cheryl Barker as Mimì, and Christine Douglas as Musetta, and the Australian Opera Chorus and Orchestra are conducted by Julian Smith. Available on VHS (for North America) from amazon.com
Vocal score
Vocal score of Puccini's La Bohème (Dover Vocal Scores) amazon.com
Puzzle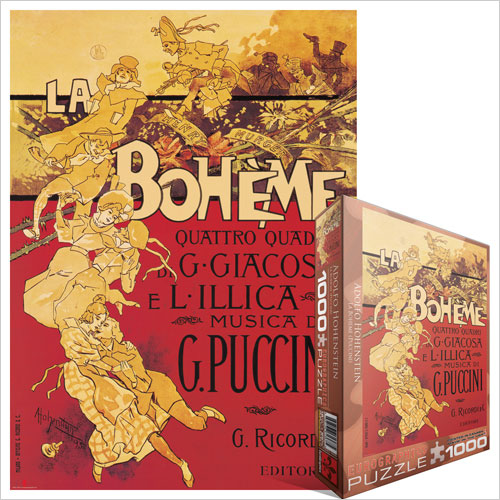 EuroGraphics 6000-1367 Hohenstein-Puccini-La Boheme