Clothing johnrpierce.com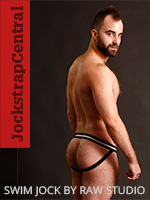 This page and all the pages on johnrpierce.com may generate income for the site owner based on affiliate relationships with entities including Amazon, Google, eBay and others.
Activeman Swimmer Jockstrap, JockstrapCentral.com
Cotton/Poly
Get back to the Gym with this traditional athletic supporter from Flarico. The plush 1-1/4 inch waistband and 1 inch leg straps ensure comfort and support for all your best assets!
Flarico has been manufacturing jocks since 1898 offering a top quality product for a no nonsense price.

McDavid Two Pack Swim Supporter, amazon.com

Flarico Swim Supporter, Jockstrap Central
White - 65% Poly 35% rubber elastic
When you hear the words Classic Jock most people think Bike but Flarico deserves the classic title as well making jockstraps under the John B. Flaherty Company name since the late 1800s.
This swimmer jockstrap has a full 6 1/2 inch width shrink resistant knitted pouch with 3/4 inch leg straps and a modest 1 1/4 inch heat resistant surgical elastic waistband.
Omtex Aqua Jockstrap, JockstrapCentral.com
Off-White - 95% cotton 5% lycra