Clothing johnrpierce.com
According to a page at Wikipedia, and I don't vouch for its accuracy on any particular point, "Nantucket Reds are a style of trousers produced by Murray's Toggery Shop, located on the islands of Nantucket and formerly on Martha's Vineyard until January 2009. . . .
"The pants were originally an adapted form of the uniforms worn by the New York Yacht Club. Nantucket Reds are unique in that they fade to a light pink as they age. Since their inception, the cotton canvas pants have been marketed as shorts, and the trademark salmon red color has been used on hats, shirts, sweaters and socks. During the summers of 2005 and 2006 there was an attempt [to] introduce Nantucket Reds to the mainstream by the retailer J. Crew. Nantucket Reds are worn predominately by summer residents of Nantucket and Martha's Vineyard."
---
---
Sometimes one will see the term "Nantucket red" used to refer to the color of an article of clothing, but with no implication as to the fabric.
---
"Nantucket red pants are the next preppy-pants extreme beyond now-sexy khakis," said New York Magazine on May 24, 2010.
---

Murray's Island Red Seersucker Shorts, Orvis.com

Murray's® famous Nantucket Reds are now available in ultracool pure cotton seersucker. These shorts for men are perfect for summer's hottest days. Cut with Murray's trademark generous fit for unsurpassed comfort. Quarter-top pockets; button-through rear pockets. Pure cotton. Washable. Imported.Even waist sizes: 32-44. Inseam 9".

The Original Nantucket Reds™ Pants, Orvis.com

Direct from Murray's Toggery—a Nantucket fixture for more than a half century—these Nantucket Reds are standard-issue summer wear. Breathable, long-wearing pure cotton canvas offers remarkable comfort in warm weather. Traditional fit with a zip fly; quarter-top pockets and welted rear pockets (left with button-through closure. Men's pants in Nantucket red. Pure cotton. Washable. Imported.Even waist sizes 32-44. Cuffed up to 34" or plain finished up to 35" at no extra charge.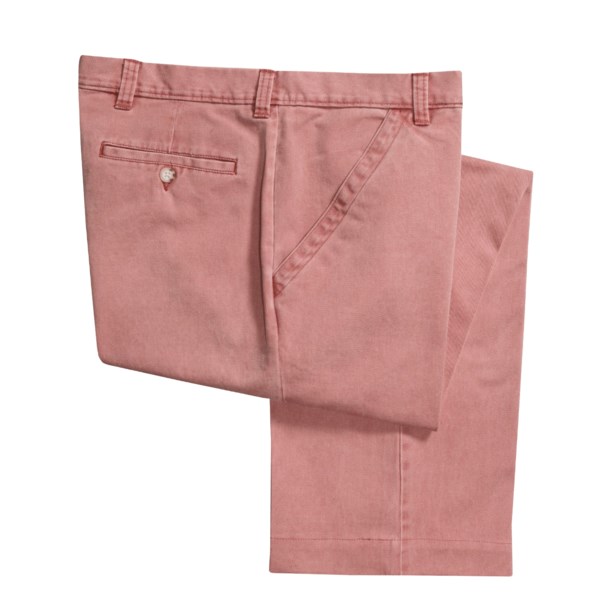 Barry Bricken Cotton Twill Pants -- Flat Front (For Men), sierratradingpost.com
---
Links
TripAdvisor reviews on Murray's Toggery Shop
Orvis.com: Breton Red Pure Cotton Canvas Pants
"Authenticity (or not)," An Affordable Wardrobe
"What to Wear with Nantucket Reds," Salt Water New England, May 1, 2016